For Schools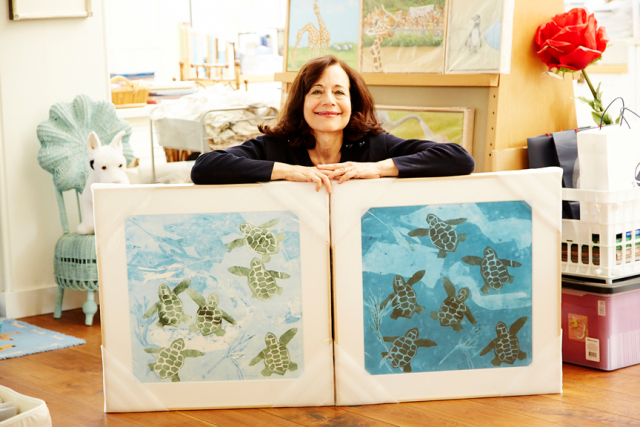 For my presentations I show slides while I read one of my historical picture books: MR. LINCOLN'S WHISKERS, SYBIL'S NIGHT RIDE, CASSIE'S SWEET BERRY PIE or LU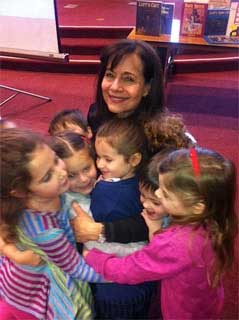 CY'S CAVE. I talk about the historical research involved in both text and art. Once I've gathered all the facts, I must take an imaginative leap. I try to imagine I'm the character living in that time, place and circumstance. Students stare in disbelief when I explain I wasn't alive then. I explain that most names and details are true, but I must imagine conversations, etc. That is the fiction part of historical fiction. What I hope to do is make history come alive; show how emotions and feelings are not so different then from now.
I talk about the research and writing process, but I also hope to demystify the actual making of a picture book, so I take students through that process too. I explain the various steps of how I've created a book—manuscript, numerous revisions, rough sketches, book dummy, oil paintings (in a style authentic to the period), printing and binding.
At the end of my presentation, I like to read BARN SNEEZE to show how different picture books can be. And I want to show students how what I do is not so different then what they themselves do in school projects—look at the world around them and express thoughts and feelings about what they see, hear, etc. in words and pictures.
Some details to know about my school visits are:
I'll speak to grades K-6.
I'll do three 45-minute presentations per day.
My equipment needs include a projector, screen, mike, remote control, and table.
Find curriculum ideas for my books here.
For more information, please email me.
Testimonials
"Karen Winnick had so much to share about her life as an author and an illustrator, and as I listened to her words of wisdom, I was impressed by their universal application…Karen's passion for reading, writing, art, and perseverance mirrored and validated beliefs held by our staff and community. Thus, we all found her to be quite inspiring!"—Karen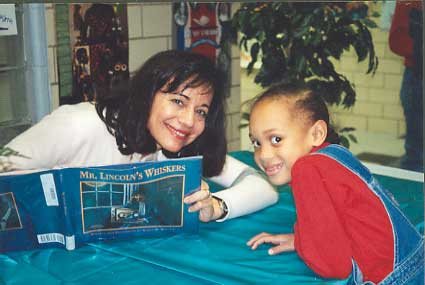 Kendall, Principal, Harbor View Elementary
"Thank you for a memorable, educational and fun day for everyone."—P.J. Charnofsky, Pennisula Heritage School, Palos Verdes, CA
"The children were thrilled…We thoroughly enjoyed your visit and the hand-on chance to see the book progress through the stages was so worthwhile."—Doreen Gould, Librarian, Ruth Baker Winch Elementary, Westfield, NY
"Your visit gave us inspiration to write our own books."—Room 8, Richland Ave. School